MARKET WATCH
One of the points I discussed in the newsletter from the first quarter was what to look for when trying to ascertain whether market indexes were in a new bull market.  Since then, we have been experiencing the higher highs and higher lows of which I wrote, and all the indexes are up over 20 percent from their low point of the 2022 bear market, which indicates a bull market has arrived.  While we have not returned to record levels on any of the indexes thus far, that is something to anticipate.  In fact, there are already advisors and TV pundits warning of a correction.
Since we have already weathered the shortest bear market in history, induced by the pandemic in 2020, followed by the shortest bull market, which lasted only 21 months, reprised by the longest bear market since 1948, it is safe to say we are in unusual times.  However, following the logic of the pattern we've seen thus far, could we be poised for a better than usual bull market?  Obviously, there are numerous factors which could derail the markets going forward, but the economy is growing, inflation is easing and through the infrastructure & semiconductor bills the government is providing capital.  I guess time will tell if we can avoid the much-ballyhooed recession.
While in a capitalist country, such as ours, decisions about how to deploy capital are best made by the private sector, there are times and areas, such as infrastructure, where government spending can be a catalyst for growth.  As we celebrate Independence Day it is particularly insightful to observe how decisions on spending are made in this country.  No one person makes the decision about what becomes law and how the government spends money.  As Xi consolidates power in China daily and Putin wages a World War I style war of attrition in Ukraine, we argue and cajole to get things done sometimes in a messy, public way.  Let's hope we can stop the weaponization of the Department of Justice by both Parties, before it's too late, because our Republic is not perfect, but it certainly beats autocracy.  Happy Birthday, America!
At the end of the second quarter the final report on Gross Domestic Product (GDP) for the first quarter was released and economic growth was revised upward from 1.3 percent to 2 percent.  The next report for GDP will be at the end of July and it will be for the advance estimate of growth for the second quarter.  The Personal Consumption Expenditures Index (PCE) for May, released on June 30th and the Fed's favorite gauge of inflation, increased 3.8 percent from the same month one year ago. Excluding food and energy, the PCE price index increased 4.6 percent from one year ago.  The last Consumer Price Index (CPI) released in mid-June reported the all-items index increased 4.0 percent for the 12 months ending in May and was the smallest 12-month increase since the period ending March 2021. The all items less food and energy index rose 5.3 percent over the last 12 months.  Both the PCE and CPI show core inflation is stubbornly high, because when energy and food are stripped out, the percentage is usually lower than the all-items number.  For the 12 months ended in May, the Producer Price Index (PPI) was up 1.1 percent and the PPI for final demand less foods, energy, and trade services increased 2.8 percent.
As we closed out the first half of the year, the stock market indexes were in positive territory with the NASDAQ* leading the charge increasing 31.73 percent year to date (YTD) and closing at 13,787.92 for the quarter.  The S&P 500* ended the first half of the year at 4,450.38 for a 15.91 percent YTD gain.  The Dow Jones Industrial Average (DJIA)* finished the first half of the year at 34,407.60 finally increasing over 20 percent from its October 2022 lows on June 30th, putting all three major indexes over 20 percent from their lowest low of the 2022 bear market.  Year to date, the DJIA* is up just 3.80 percent.
At their last Federal Open Market Committee (FOMC) meeting in mid-June the Fed paused rates at 5 – 5.25 percent to observe how the economy is holding up.  However, don't be surprised if they raise rates again at the July or September meetings.  Watch the July 7 employment report for more clues as to the economy's ability to continue to add to America's payrolls.
OUR PRIVACY POLICY AT JERSEY BENEFITS & HAPPY 4TH OF JULY
At Jersey Benefits Group, Inc. and Jersey Benefits Advisors, we collect and use information from you on applications and other forms as well as information about financial transactions with us and from non-affiliated third parties.  This "nonpublic personal information" is obtained in connection with providing a financial product or service to you. 
We do not disclose any nonpublic personal information about you without your express consent, except as permitted by law and only to provide services to you.  We may disclose the nonpublic personal information we collect to persons or companies that perform services on our behalf for your benefit. 
We restrict access to your non-public personal information and only allow disclosures to persons and companies as permitted by law to assist in providing products or services to you.  We also maintain physical, electronic and procedural safeguards to protect your nonpublic personal information in all instances.  If you have any questions about our privacy policy or how we safeguard your information, please don't hesitate to contact me.
I do hope you had an enjoyable Independence Day and were able to reflect on the meaning of the holiday, relax some, and get to your destination safely, if you were travelling.  If you'd like to discuss your accounts in more detail, set up a contribution plan or have any questions, please feel free to contact me.  Enjoy your summer!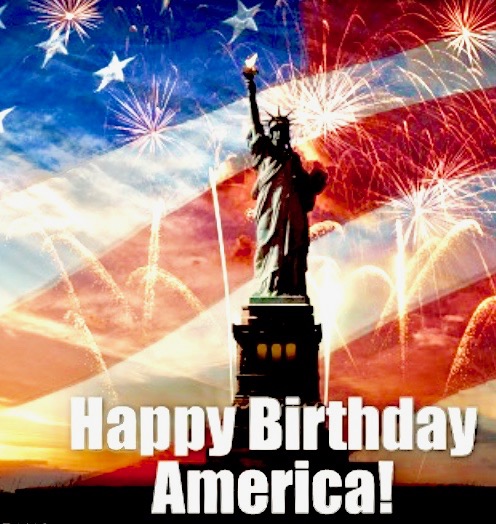 Hoping your 4th of July was a blast!!
ADVISOR GROUP UNVEILS NEW NAME AS PART OF REBRANDING EFFORT 
I'm utilizing this space to share some exciting news regarding Royal Alliance, the firm I use to support my business operations.
On June 21, Royal Alliance announced that it has rebranded to Osaic Wealth, Inc. (Osaic Wealth). The firm's parent company (formerly Advisor Group) has also adopted a new brand and name – Osaic, Inc.  Osaic Wealth will soon provide you with official notice of this change when they send your required annual privacy notice. These notices require no action from you.
This company rebranding will not impact the way we work together, and I'll continue to manage your accounts in the same way I do today. You may notice the appearance of a new name and logo on materials from Osaic Wealth, Inc. but otherwise, you will not experience any changes. Systems and forms are being updated to reflect this new name, but you may continue to see the Royal Alliance or Advisor Group name until that is completed.
"We are excited to announce our new brand and believe it truly pulls together our culture, community, experience, and the diversity of thought into one inspiring story," notes Osaic President and CEO Jamie Price.  "We developed the Osaic brand for the advisors we serve today and those we will serve tomorrow.  It was also built with their end-clients in mind, because we know they are who matter most to our advisors, and when they thrive, we all thrive."
By bringing all eight of its wealth management firms together under one brand, Osaic notes that it will be better positioned to serve its financial professionals by offering them access to the full breadth of capabilities and expertise that the firm's growing scale provides. The simplified business structure will reduce complexity through a unified platform, technology stack, procedures and support model.
"As we went through the brand and naming process, we decided to go with a brand that could be uniquely ours.  The mission and promise underlying Osaic is that we will leverage our scale, resources, and expertise to help our financial professionals reach their full potential, as business leaders and as partners to their clients," said Greg Cornick, President of Advice and Wealth Management at Osaic Wealth, Inc.
Starting this fall, each of the current wealth management firms previously under Advisor Group will transition into Osaic Wealth, Inc. The firm notes that it has a well-crafted plan to ensure a smooth transition of financial professionals' businesses, without the need for repapering accounts. The individual firms will unify under the new brand in phases over the next 18-24 months.
Osaic Wealth, Inc. supports over 11,000 financial professionals and is a portfolio company of Reverence Capital Partners.
If you have any questions, please don't hesitate to reach out to me.  Our broker/dealer, Royal Alliance Advisors, Inc., will be the first to transition to the new name and our back-office systems, thankfully, will be utilized by Osaic.  As always, thank you for the ongoing opportunity to serve you.
Company Information
John H. Kaighn offers various products and services under the trade name of Jersey Benefits Advisors.
PO Box 1406
Ocean City, NJ 08270
Phone: (609) 827-0194
Fax: (856) 637-2479
Email: kaighn@jerseybenefits.com
John H. Kaighn is an Investment Advisor Representative & Registered Representative of Osaic Wealth, Inc.  Securities and Advisory Services are offered through Osaic Wealth, Inc.  Member FINRA & SIPC.
Osaic Wealth, Inc. is separately owned and other entities and/or marketing names, products or services referenced here are independent of Osaic Wealth, Inc.
10 Exchange Place
Suite 1410
Jersey City, NJ 07302
Osaic Wealth, Inc. is not affiliated with Jersey Benefits Advisors or Jersey Benefits Group, Inc.
Insurance Services and Third Party Administration offered through Jersey Benefits Group, Inc., a licensed Insurance Agency in the State of New Jersey.
PO Box 1406
Ocean City, NJ 08226
Phone: (609) 827-0194
Fax: (856) 637-2479
Email: kaighn@jerseybenefits.com
All opinions expressed in this newsletter are independent of Osaic Wealth, Inc. and are solely those of John H. Kaighn and Jersey Benefits Advisors.
*The S&P 500, the DJIA, the NASDAQ and others referenced are unmanaged indices that are widely used as indicators of Market Trends. Past Performance does not guarantee future results and the performance of these indices does not reflect the fees and charges associated with investing.  It is not possible to invest directly in an index.
*Dollar Cost Averaging through a systematic savings plan is an excellent way to build an account without a sizeable initial investment.  Saving a portion of our pay each month is very important.  Company sponsored pension plans are one method to save and should be used for retirement.  Other systematic investment accounts, such as ROTH IRA's, Traditional IRA's, Coverdell Accounts, 529 Plans, Brokerage Accounts and Annuities can also be opened, and debited directly from checking or savings accounts.  For more information, just call to set up an appointment.  Referrals are always welcome. 
John H. Kaighn